Nursery Open Day
Sunday 1st October 2017 10am-4pm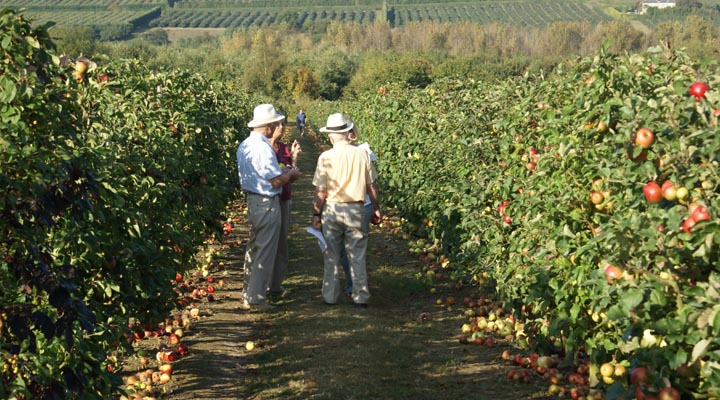 We had a very successful and busy open day. We were very fortunate with the weather. The forecast had been awful all week – heavy rain and wind all day! We had been wondering if anyone would turn up. It was too late to postpone and so we just had to hope for the best. As it turned out apart from very short spells of fine drizzle, it was warm and dry all day with little wind. There was even a hint of hazy sunshine at one point. We had over three hundred visitors, despite the weather forecast, many local but also from far away. They included many who were new but also a few familiar faces who have visited us on previous open days.

It has been a very early season for apples and pears this year. As a result most of the early varieties were already finished and even some of the mid season varieties were getting past their best. However some of the late season varieties which are often not at their best in time for the open day were really excellent this year. There were hundreds of varieties of different colours, shapes and tastes for visitors to try. Amongst the apples, some of the Coxes and Cox type varieties such as Sunset, Kidd's Orange Red, Sweet Society and Rubinette which were all excellent this year were the favourites. Rubinola, Winter Gem and Freyberg were very popular with visitors with a sweeter tooth. The pear trees were showing beautiful red, orange and gold autumn colours. Delicious pears such as Durondeau, Beurre Bosc and Comice which are often not at their best yet for the open day were excellent this year.

Thanks to the generosity of the visitors we raised over £730 in support of two local charities based in our village: Dandelion Time which provides support for children with social and psychological problems and Evergreens which organises activities and outings for elderly people in the village. We will give £365 to each of these charities, the equivalent exactly of £1 a day for the next year. We hope that you all enjoyed your visit. Thank you very much for your support. We look forward to next year's open day.


Directions
Keepers Nursery, Lower Road, East Farleigh
Maidstone, Kent
From M20 Junction 5 follow the signs for Maidstone Hospital and Barming. Continue past the hospital, through Barming to East Farleigh. At East Farleigh you will go over a level crossing and a narrow stone bridge across the Medway. Turn right at the cross roads at top of the hill on to Lower Road. Continue past Gallants Lane on the left. The nursery entrance is on the left about 200 yards past Gallants Lane. Please drive up the farm track through the nursery and park on the grass by the brick wall at the end.
View Larger Map