Nursery Open Day
Sunday 30th September 2018 10am-4pm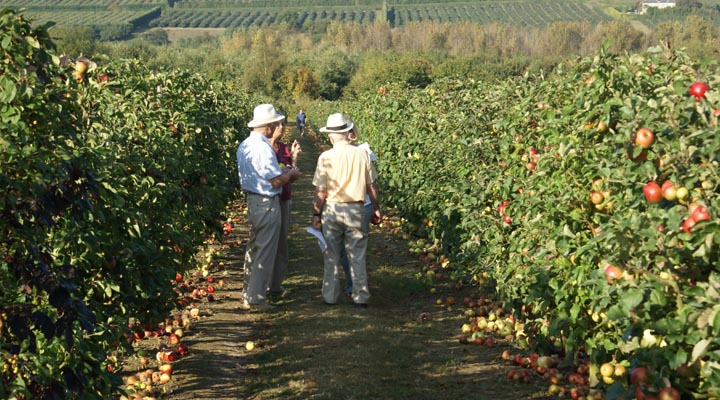 We had a very successful and busy open day. We were lucky to have fine sunny autumn day, a little cooler than of late but very pleasant. It has been a very early season again for apples and pears this year because of the hot summer. Most of the early varieties were already finished and even some of the mid season varieties were starting to get past their best. However many of the late season varieties which are often still not at their best in time for the open day were really excellent this year. The cropping has been rather patchy because of the unusual spring weather. While some varieties were laden with fruit, there were others with few or none. There were nevertheless hundreds of varieties for visitors to try. The sunny weather this summer has resulted in very well coloured fruit. Even the Bramleys are quite red this year.

Amongst the apples, some of the Coxes and Cox type varieties such as Sunset, Kidd's Orange Red, Sweet Society and Rubinette which were all excellent this year were the favourites. Rubinola, Rajka, Winter Gem and Freyberg were very popular with visitors with a sweeter tooth. The chilly nights in past two weeks has meant that the pear trees have started showing beautiful red, orange and gold autumn colours. Delicious pears such as Durondeau, Beurre Bosc and Comice which are often not at their best yet for the open day were excellent this year.

Thanks to the generosity of the visitors we raised £1000 in support of our charity the David Nott Foundation who do admirable work training doctors and surgeons in disaster and war zones around the world. To our great pleasure David and Elly Nott who run the charity also came to the open day.

If you came, we hope that you all enjoyed your visit. Thank you very much for your support. We look forward to next year's open day.
Directions
Keepers Nursery, Lower Road, East Farleigh
Maidstone, Kent
From M20 Junction 5 follow the signs for Maidstone Hospital and Barming. Continue past the hospital, through Barming to East Farleigh. At East Farleigh you will go over a level crossing and a narrow stone bridge across the Medway. Turn right at the cross roads at top of the hill on to Lower Road. Continue past Gallants Lane on the left. The nursery entrance is on the left about 200 yards past Gallants Lane on
Lower Road
. Please drive up the farm track through the nursery and park on the grass by the brick wall at the end.
SatNav users
Use postcode ME15 0JS. This will bring you to the junction of Lower Road and Gallants Lane which is about 100 yards from the nursery entrance on
Lower Road
.
View Larger Map