Nursery Open Day
Sunday 29th September 2019 10am-4pm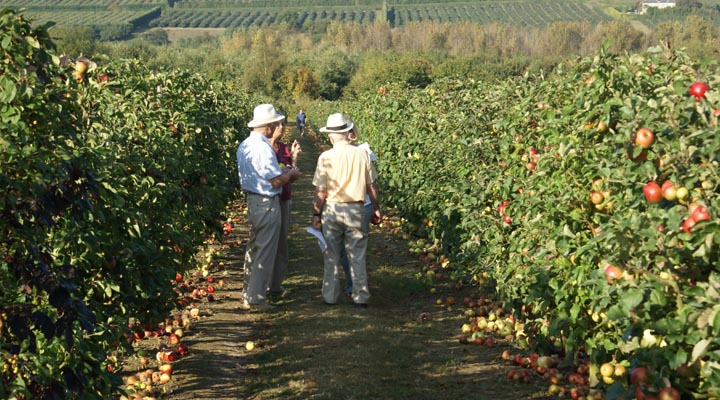 Keepers Nursery will be holding an open day on Sunday 29th September 10am-4pm. With over a thousand different varieties it is probably the largest private collection of fruit trees in the country and you are invited to come and visit this collection. The day provides an opportunity to sample a wide range of apple and pear varieties that are currently in season. You will also be able to seek advice on fruit trees from the highly knowledgeable Nursery Manager and team.

The entry fee for the open day is £5 per adult (18 and over), which will be donated to our local village sports club.

We advise that visitors come prepared for all conditions on the day as the ground may be wet, muddy and/or uneven. As such, access to some parts of the collection may not be suitable for those with limited mobility.

Parking will be on the grass in the nursery and we ask visitors to park as directed by staff. Unfortunately, dogs are not allowed in the tree collection. We ask that children under 12 be under adult supervision at all times.

The 'nursery', i.e. where the nursery stock is grown, will be out of bounds to visitors. Nursery staff will be available to show you examples of trees we sell if required.

Visitors are free to sample as many varieties as they like on the day, but we encourage visitors to be considerate of fellow visitors when sampling, so that fruits remain on the trees for the benefit of others. Please note the open day is not a 'pick-your-own' event; a maximum of five pieces of fruit per visitor can be taken home for sampling.

Visitors are welcome to bring picnics, and some light refreshments will be available for purchase on the day.

We encourage visitors to use their mobile devices on the day to aid their experience, taking photos and notes as well as using our website's detailed database to check, for example, variety characteristics, pollination groups and stock availability for planning tree orders.


Directions
Keepers Nursery, Lower Road, East Farleigh
Maidstone, Kent
From M20 Junction 5 follow the signs for Maidstone Hospital and Barming. Continue past the hospital, through Barming to East Farleigh. At East Farleigh you will go over a level crossing and a narrow stone bridge across the Medway. Turn right at the cross roads at top of the hill on to Lower Road. Continue past Gallants Lane on the left. The nursery entrance is on the left about 200 yards past Gallants Lane on
Lower Road
. Please drive up the farm track through the nursery and park on the grass by the brick wall at the end.
SatNav users
Use postcode ME15 0JS. This will bring you to the junction of Lower Road and Gallants Lane which is about 100 yards from the nursery entrance on
Lower Road
.
View Larger Map