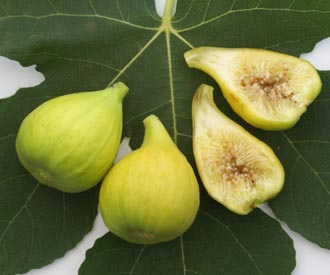 Madeleine des Deux Saisons Fig
Ficus carica
A fine quality frost hardy yellow fig particularly suited to UK conditions.
Origin:
 France
Pollination:
  Madeleine des Deux Saisons is self-fertile and a pollinator is not necessary for producing a crop.
A guide to choosing Fig Trees
---
Madeleine des Deux Saisons Fig Trees for sale - order online
---
History and description of Madeleine des Deux Saisons
Also known as Angelique, Madeleine des Deux Saisons is an old variety dating at least back to the 17th century and known to have been grown at the Palace of Versailles at the time of Louis XIV. The fruit has a fine golden yellow skin, sometimes with a pink flush. The flesh is soft and juicy turning pink towards the centre when ripe. It is very sweet with excellent flavour. It is very suited to the cooler UK climate and is very frost hardy. The name which literally means Madeleine of two season refers to the fact that can produce two crops a year. In warmer locations it produces an early crop of very large summer fruit weighing up to 120g each in early July followed by an autumn crop of smaller fruit in September. In outdoor UK conditions it is likely to only produce the September crop.