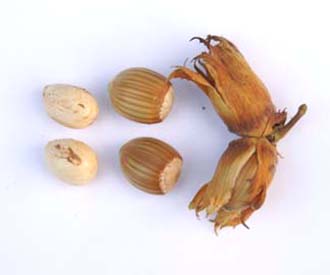 Cosford Cobnut
Corylus avellana
One of the sweetest and best flavoured of all the filberts
Origin:
 UK
Pollination:
  Cosford is self-sterile and would require a pollinator to produce a crop.
A guide to choosing Cobnut Trees
---
Cosford Cobnut Trees for sale - order online
---
History and description of Cosford
Cosford is a filbert type hazelnut. It makes tall upright trees. It produces plenty of catkins and is an excellent pollinator for many other cobnut varieties. The nuts have very thin shells and have excellent flavour. However it is a light cropper producing small clusters of two or three nuts. Cosford is pollinated by
Kentish Cob
,
Gunslebert
and
Halls Giant
.