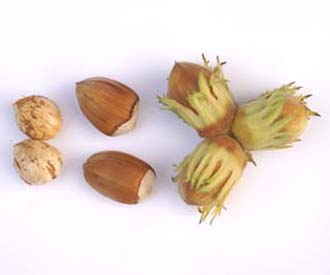 Gunslebert Cobnut
Corylus maxima
A hardy productive cobnut with a distinctive nutty flavour
Origin:
 Germany
Pollination:
  Gunslebert is self-sterile and would require a pollinator to produce a crop.
A guide to choosing Cobnut Trees
---
Gunslebert Cobnut Trees for sale - order online
---
History and description of Gunslebert
Gunslebert is a vigorous, hardy and highly productive cobnut variety. The nuts are borne in large clusters of up to eight nuts. When fully ripe the nuts dehusk readily. The nuts are medium sized and have a smooth texture with a distinctive nutty flavour. Gunslebert is pollinated by Cosford and Kentish Cob.