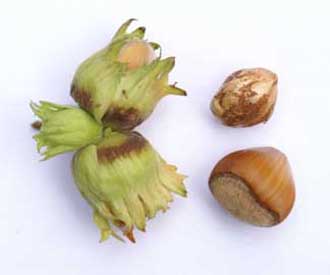 Halls Giant Cobnut
Corylus maxima
A hardy vigorous variety producing large high quality cobnuts
Origin:
 France
Pollination:
  Halls Giant is self-sterile and would require a pollinator to produce a crop.
A guide to choosing Cobnut Trees
---
Halls Giant Cobnut Trees for sale - order online
---
History and description of Halls Giant
Halls Giant also known by its French name Merveille de Bollerwiller is a vigorous productive cobnut variety. It produces large pointed round nuts with good flavour. It is resistant to cold but prefers a warm dry location. The shoots and catkins have a distinctive red tinge. Halls Giant is pollinated by Butler, Cosford, Ennis and Kentish Cob.