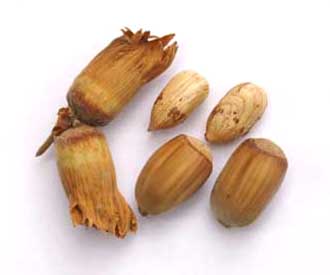 Kentish Cob Cobnut
Corylus maxima
The most popular cobnut grown in the UK. Heavy cropping with excellent flavour
Origin:
 France
Pollination:
  Kentish Cob is self-sterile and would require a pollinator to produce a crop.
A guide to choosing Cobnut Trees
---
Kentish Cob Cobnut Trees for sale - order online
---
History and description of Kentish Cob
Kentish Cob also known as Lambert's Filbert is a filbert despite its name. It is the best known commercial variety in the UK. The characteristic long and flat nuts are covered by a long husk and born in clusters of two to five. It is a reliable heavy cropper. When mature the shell is light brown. The nuts do not all dehusk freely but the kernel is free of felt. It ripens early and has an excellent flavour as a fresh nut. Kentish Cob is pollintated by
Cosford
,
Gunslebert
and
Halls Giant
as well as wild Hazel.