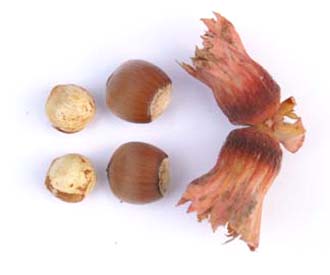 Red Filbert Cobnut
Corylus maxima
A partly ornamental cobnut with attractive red leaves which produces small but very tasty nuts
Pollination:
  Red Filbert is self-sterile and would require a pollinator to produce a crop.
A guide to choosing Cobnut Trees
---
Red Filbert Cobnut Trees for sale - order online
---
History and description of Red Filbert
Red Filbert produces an attractive tree with dark red leaves in the spring and early summer and red catkins in the winter. The nuts have red husks and dark reddish brown shells. They are quite small and round but have very good flavour. Red Filbert is a light cropper grown as much for its ornamental value as for nut production.