Natchez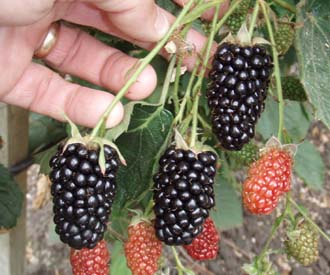 An early ripening thornless blackberry with very large high quality berries.
Origin: USA, 1998
Pollination: Natchez is self-fertile and a pollinator is not necessary for producing a crop.  Pollination partners
History and description of Natchez
Natchez is a thronless blackberry raised at the University of Arkansas Fruit Research Station, USA in 1998. It produces good crops of very large berries of up to 9g average weight. The fruit is sweet with a fruity flavour and good balancing acidity. It ripens from mid July into August. The canes are completely thornless, semi-erect and easy to train.
Characteristics of Natchez blackberry and hybrid berries
| | |
| --- | --- |
| Use | |
| Colour | |
| Flavour | |
| Fruit size | |
| Picking time | |
| Season of use | |
| Tree vigour | Moderate |
| Tree habit | |
| Fruit-bearing | |
| Cropping | |
| Pollination date | 0 |
| Pollination group | |
| Self-fertility | Self-fertile |
| Pollinators | Pollination partners |