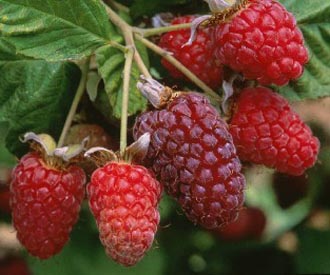 Loganberry LY654 Hybrid Berry
Rubus x loganobaccus
A cross between raspberry and blackberry with large dark red fruit and excellent flavour

Pollination:  Loganberry LY654 is self-fertile and a pollinator is not necessary for producing a crop.
---
Loganberry LY654 Hybrid Berry Plants for sale - order online
---
History and description of Loganberry LY654
Loganberry is a cross between raspberry and blackberry. LY654 is one of the best and most widely grown varieties. The fruit is dark red in colour and much longer than a raspberry. It is juicier but sharper flavoured than raspberry. The fruit ripens over a long period in July and August. For best flavour it should be allowed to fully ripen to a dark red colour before picking. It is best used for jams and summer puddings but can also be eaten fresh.

We supply Loganberry both as smaller field grown bare root and larger container grown plants. The canes need to be trained on wires either on a sunny wall or on posts with a spacing of about 3m (9ft) between plants.