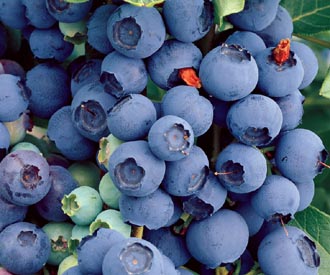 Bluecrop Blueberry
Vaccinium corymbosum
The most widely grown mid season blueberry producing heavy crops of large berries with a slightly tart flavour. Excellent bronze autumn colour.
Pollination:
  Bluecrop is self-fertile and a pollinator is not necessary for producing a crop.
A guide to choosing Blueberry Bushes
---
Bluecrop Blueberry Bushes for sale - order online
---
History and description of Bluecrop
Bluecrop is the leading commercial variety of northern highbush blueberry in the world. It is considered the best all round variety. Bluecrop is a mid season blueberry producing consistent yields of large, high quality berries with a slightly tart flavour. It has good disease resistance. It produces an upright, open growing bush 5-7ft (1.5-2m) in height and spread. There are other varieties with better ornamental value but none better in the garden.
All blueberries do best on a moist acid soil. Blueberries are self-fertile, but it is recognised that cross-pollination as a result of planting more than one variety together does improve yield.