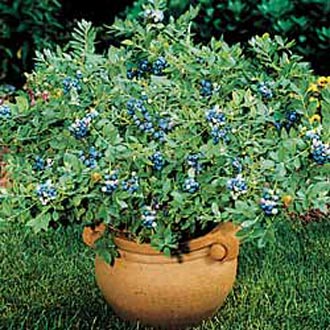 Sunshine Blue Blueberry
Vaccinium corymbosum
A new semi-evergreen dwarf blueberry ideal for growing in containers
Pollination:
  Sunshine Blue is self-fertile and a pollinator is not necessary for producing a crop.
A guide to choosing Blueberry Bushes
---
Sunshine Blue Blueberry Bushes for sale - order online
---
History and description of Sunshine Blue
Sunshine Blue is a mid season dwarf semi-evergreen blueberry with a highly branched compact habit growing up to 3ft (1m) in height and spread. The showy pink flowers fade to white in spring, yielding large crops of medium sized delicious fruit with a unique tangy flavour for up to nine weeks in the summer. Although requiring acid soil like other blueberries Sunshine Blue tolerates higher pH soils better than others. It is self pollinating.