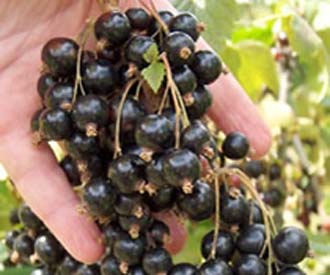 Ben Connan Blackcurrant
Ribes nigrum
A heavy cropping early blackcurrant with good disease resistance and large berries.
Pollination:
  Ben Connan is self-fertile and a pollinator is not necessary for producing a crop.
A guide to choosing Blackcurrant Bushes
---
Ben Connan Blackcurrant Bushes for sale - order online
---
History and description of Ben Connan
Ben Connan blackcurrant was raised at the James Hutton Institute (formerly the Scottish Crop Reserach Institute) in Scotland by crossing Ben Sarek and Ben Lomond. It is a high yielding variety with very large berries capable of yielding 3.5Kg per bush. It is one of the earliest varieties to ripen and will ripen from early July in southern England. It makes a small compact bush. It has good resistance against mildew, leaf spots and leaf curling midge.