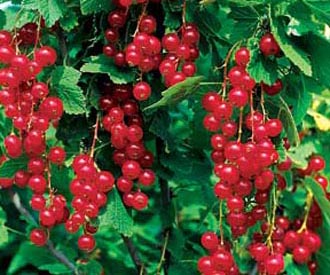 Jonkheer Van Tets Redcurrant
Ribes rubrum
A very popular early ripening redcurrant for the garden.
Pollination:
  Jonkheer Van Tets is self-fertile and a pollinator is not necessary for producing a crop.
A guide to choosing Redcurrant Bushes
---
Jonkheer Van Tets Redcurrant Bushes for sale - order online
---
History and description of Jonkheer Van Tets
Jonkheer van Tets is a well established popular early season redcurrant. The fruit ripens from early July onwards in southern England. It crops heavily. The bright red berries are large and dangle on long trusses. The flavour is very good. The bushes are vigorous. It does best in a sheltered location on well drained rich soil with plenty of organic matter.