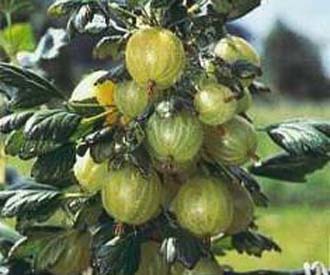 Invicta Gooseberry
Ribes uva-crispa var reclinatum
A very popular heavy cropping green gooseberry with an RHS Award of Garden Merit.
Origin:
 Kent UK 1983
Pollination:
  Invicta is self-fertile and a pollinator is not necessary for producing a crop.
A guide to choosing Gooseberry Bushes
---
Invicta Gooseberry Bushes for sale - order online
---
History and description of Invicta
Invicta gooseberry was raised at East Malling Research Station, Kent, UK in 1983. It is one of the heaviest cropping gooseberry varieties producing twice as much as many other varieties. The green berries are very large. They are excellent for pies, desserts and jams if picked in late June and early July when they are still quite tart. By mid July they are quite sweet and good for eating fresh. The bushes are vigorous, thorny and have an upright growth habit. They grow to maximum height of 1.5m/5ft. They have good mildew resistance.