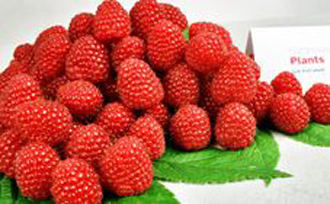 Polka Raspberry
Rubus idaeus
A new high quality autumn raspberry with a very long cropping season
Origin:
 Poland
Pollination:
  Polka is self-fertile and a pollinator is not necessary for producing a crop.
A guide to choosing Raspberry Canes
---
Polka Raspberry Canes for sale - order online
---
History and description of Polka
Polka is a new raspberry bred by Dr Jan Danek in Poland. It is autumn fruiting producing berries on the current season's canes. The berries are large and regular conical shaped. They have an attactive bright colour and keep well. It is very heavy cropping. The fruit starts to ripen slightly before
Autumn Bliss
.