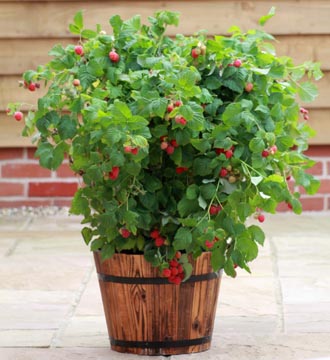 Ruby Beauty Raspberry
Rubus idaeus
The world's first compact dwarf raspberry plant
Origin:
 New Zealand
Pollination:
  Ruby Beauty is self-fertile and a pollinator is not necessary for producing a crop.
A guide to choosing Raspberry Canes
---
Ruby Beauty Raspberry Canes for sale - order online
---
History and description of Ruby Beauty
Ruby Beauty is a new naturally dwarf raspberry variety bred in New Zealand which grows into a compact multibranch plant no more than 1m (3ft) tall. The canes are thornless and require little or no support. It is an ideal variety for growing in containers in small gardens or on patios. Plant one plant in a 10L pot or 3 in a 40L pot using a soil based John Innes No 3 compost. Like all container grown plants these require regular feeding as well as watering during the growing season. Alternatively Ruby Red can be planted in borders or as a small fruiting hedge. Allow at least 70cm between plants.
Otherwise Ruby Red can be treated as any other early summer (floricane) raspberry. The berries ripen in late June and early July. Old canes should be cut in late summer after fruiting has finished and new canes are left to grow on and produce fruit the following year. Despite its dwarf stature Ruby Red is capable of producing heavy crops of 1.5Kg (3lb) per plant. The berries are sweet and of high quality.