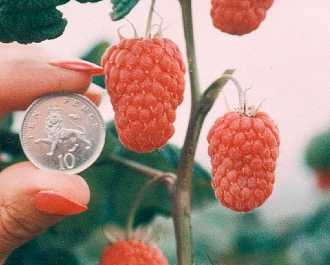 Glen Magna Raspberry
Rubus idaeus
A late ripening variety with very large berries with excellent flavour
Pollination:
  Glen Magna is self-fertile and a pollinator is not necessary for producing a crop.
A guide to choosing Raspberry Canes
---
Glen Magna Raspberry Canes for sale - order online
---
History and description of Glen Magna
Glen Magna is a late summer rapberry. The fruit ripen from mid July. Very large dark red fruit up to 7gms each. Excellent flavour and appearance. Canes have few spines.