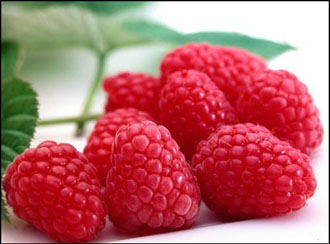 Tadmor Raspberry
Rubus idaeus
A new late ripening summer variety with exceptionally large berries
Origin:
 New Zealand
Pollination:
  Tadmor is self-fertile and a pollinator is not necessary for producing a crop.
A guide to choosing Raspberry Canes
---
Tadmor Raspberry Canes for sale - order online
---
History and description of Tadmor
Tadmor is a new raspberry bred in New Zealand. It is the latest of the summer fruiting varieties. It produces heavy crops of very large attractive firm berries averaging 7g in weight. It has excellent flavour. Tadmor fills the gap in the cropping season between older summer varieties and autumn varieties.