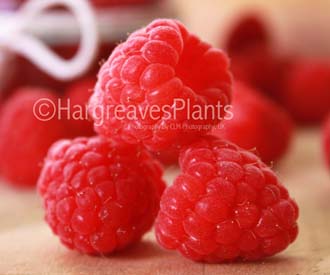 Cascade Delight Raspberry
Rubus idaeus
A new mid season raspberry variety producing large attractive berries
Origin:
 USA 1992
Pollination:
  Cascade Delight is self-fertile and a pollinator is not necessary for producing a crop.
A guide to choosing Raspberry Canes
---
Cascade Delight Raspberry Canes for sale - order online
---
History and description of Cascade Delight
Cascade Delight respberry was bred in 1992 at Washington State University in the USA. It produces a heavy crop which ripens from mid July to mid August. The large firm berries are easy to pick, keep and freeze well. The canes are very vigorous. Good resistance to Phytophthora root rot make Cascade Delight one of the best varieties for wet and poorly drained soils. Further detailed information about Cascade Delight can be found on the
Meiosis website
.