Pre-order trees for autumn 2022 / winter 2023 now
Looking for a custom-graft? Please order before 8th July.
Keepers Nursery
The UK's largest range of Fruit Trees
Customer services
BBC Great British Garden Revival at Keepers Nursery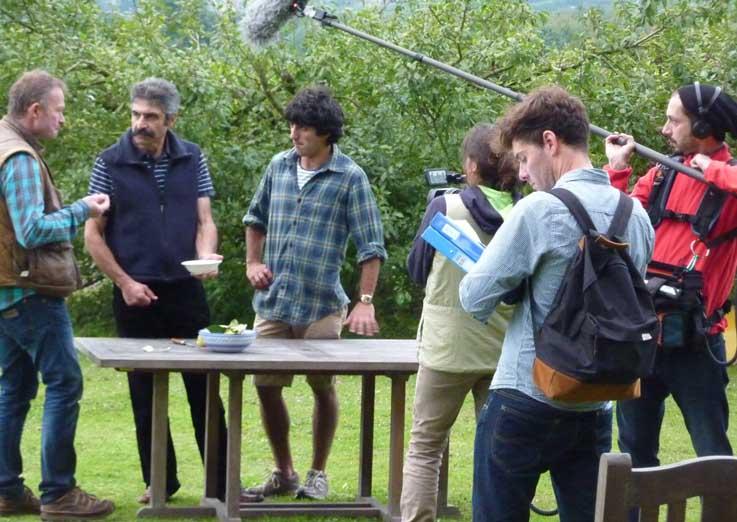 Keepers Nursery was featured in a BBC Two TV gardening series called Great British Garden Revival. The ninth episode of the series entitled Fruit Trees and Ornamental Bedding broadcast on Monday 13th January included a section in which the gardening presenter Toby Buckland visited Keepers Nursery. He interviewed Hamid, Sima and Karim Habibi about our work and did a tour of our collection of fruit trees.

We are very proud and honoured to have been included in this programme and feel that it is a tribute to the work we have done over many years to preserve and make available to gardeners rare and unusual varieties of fruit which form such an important part of the heritage of British gardening. Details of the programme can be found on the BBC Website. The programme is available for a limited period in the UK on BBC iPlayer.
Since the programme we have had been overwhelmed with kind comments and congratulations from many customers and well wishers. Thank you to all those who have sent messages. The following is a sample of the messages we have received:
"What a delight to see your extensive orchards (with abundance of fruit) and your family discussing the merits of keeping these wonderful varieties going. Please keep up the work you do and keep these varieties preserved in your orchards". M.C.
"Many congratulations - Keepers certainly deserved to be included in that programme. A great tribute to you all." H.C.
"I watched the programme last night and I thought the Nursery looked fantastic. You are right to be proud" B.L.
"I had the pleasure of watching your feature on the BBC and thought it was excellent. Well done!!" B.W.
"Well done, fully deserved! I enjoyed the programme." K.E.

"It was lovely to see the Nursery last night and such a selection of fruit trees on BBC gardening programme, must say it is an outstanding Nursery and you well deserve recognition of such a good report from Toby"

M.L.

"I really enjoyed seeing your orchard in this program. Almost as much as I enjoy the trees we have planted, provided by you!" M.W.
"What a super programme last night on the Great British Gardening Revival! I hope that you get a lot of interest from the wonderful piece about your Nursery! " D.G.
"Fascinating interlude in the BBC2 programme. You must all feel quite proud of what you have achieved" D.B.

"Enjoyed seeing the birth place of my trees!" C.S.
"It was great to see the nursery.Am pleased to report that all 5 of the trees that I bought from you are doing well." A.S.
"Great to see you all being interviewed on the new BBC series. Keep up the good work." N.L.
"Saw the programme. Well done! You deserve it. Have always recommended you to friends." M.R.
"Congratulations. We've always been pleased with your service and wide range of fruit trees available." O.C
"Congratulations! Just watched the programme. Keepers Nursery looks tremendous. Keep up the good work." G.B.
"I'm sure you all deserve the accolade that the BBC gives. Congratulations!" D.C.
"It is a just reward for all the hard work you have put into developing your business over the years. You have the largest selection of fruit trees I have seen and also an excellent website containing information about each fruit tree type. You also have a very good section on choosing the right root stocks." I.H.