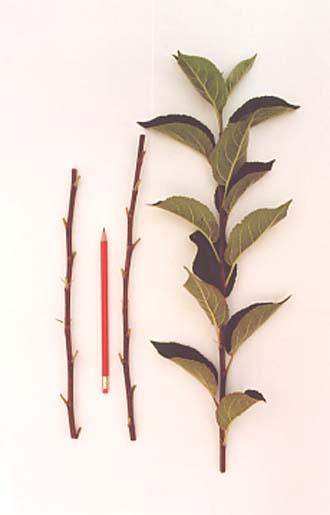 Apple shoots cut for bud grafting
In addition to our normal range of fruit trees we also offer a grafting service. We can propagate any other fruit tree variety to order subject to availability of suitable grafting material. This includes the possibility of grafting from a special tree in your garden as well as propagating unusual varieties from our own collection or other collections such as those at the National Fruit Collection or at the Royal Horticultural Society Gardens at Wisley.
Propagation is carried out by bud grafting at the end of July or early August. Trees would be available for supply approximately 18 months later. While we expect to be successful in most cases, we cannot of course guarantee success particularly when dealing with poor grafting material from old trees. If you wish to use this service please contact us before the end of June to make the necessary arrangements. Orders for this service cannot be placed online. You need to contact us by email or telephone to make the necessary arrangements. If we are to propagate from your own tree you will need to supply us with budwood (shoots from your tree that we will use for bud grafting) at the end of July as follows:
(1) Select suitable shoots from your tree. These should be fairly mature shoots from the current year's growth which should preferably have reached about the thickness of a pencil. It is best to choose shoots from the south facing side (or other sunny part) of the tree. If you are unsure about selecting suitable shoots look for branches with new growth, work back from the growing tip to the point where that year's growth starts. You should be able to easily distinguish this point as it will normally be marked by wrinkles on the bark and a cluster of closely spaced leaves as well as a change in the colour and texture of the bark. The best budwood is usually the oldest section of this new growth. If your tree is very old there may be very little new growth. In such cases there are often watershoots (shoots growing vertically upwards from the main boughs) which may be suitable. You should of course choose healthy shoots which are clean of pests or diseases.
2) Cut pieces of suitable shoots ideally nine inches in length. Cut the flat part of the leaves off immediately leaving most of the leaf stalk on and taking care not to damage the buds in the angle of the leaf stalk. We only need one of these buds to propagate one tree but please let us have several shoots to ensure that we have plenty of suitable buds to choose from. Take a polythene bag. Fill it with water and then empty the water out so that you are left with a film of moisture inside the bag. Put the shoots in the polythene bag, seal the bag and keep refrigerated.
Send the shoots to us by first class post or bring them to the nursery as soon as possible. Please also enclose a note of the rootstock and the number of trees that you require. If you intend to bring the budwood to the nursery yourself please call and arrange a suitable time and date before coming here.
Rootstocks
We can propagate onto a wide range of rootstocks. The choice of rootstock determines the eventual size of the tree and is therefore important in that it will determine the suitability of the tree for the site and purpose for which it is intended. You should let us know the rootstock you would like us to propagate onto when placing your order. For details on the choice of rootstocks please click the appropriate fruit type below:
Plum/Damson/Cherry Plum/Bullace
Price
The cost of grafting service is £39.00 per tree. £5.00 deposit per tree to be paid with the order. The balance to be paid before delivery of the trees.
How to Order
Orders for this service cannot be placed online. You need to contact us by email or telephone before the end of June to make the necessary arrangements. When ordering please ensure that you provide us with full details of the variety and rootstock you require. In addition if you are not an existing customer please provide us with your personal details including name, postal address, telephone number and email address.