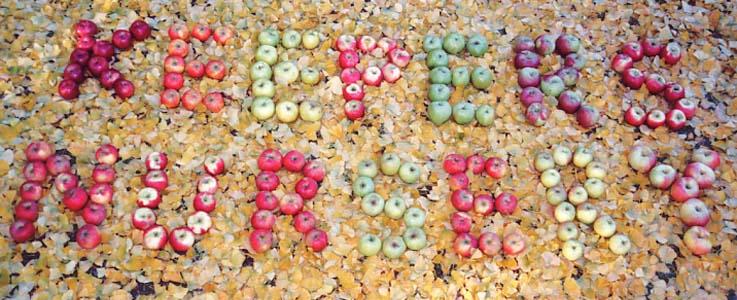 Our history
Keepers Nursery was established in the early 1980's. At that time there was a revival of interest in traditional old varieties of fruit, most of which had completely disappeared from the shops to be replaced by the rather boring standard supermarket range. Many people became interested in growing these wonderful old varieties in their gardens. Keepers Nursery was one of the first nurseries to respond to this revived interest.
Since then we have established ourselves as one of the best known and respected fruit tree specialists in the UK. Our range of over 600 old and modern varieties far exceeds that of any other nursery. We are renowned for the quality of our trees and of our service. Thousands of amateur gardeners have planted trees supplied by us in their gardens and benefited from our help and advice. We particularly pride ourselves in our contribution to preserving many wonderful but endangered old fruit varieties. Our trees have been used for many restoration projects throughout the UK carried out by local authorities and organisations such as the National Trust and English Heritage.
Trees direct from a specialist grower
Growing fruit trees is a long term investment. Like all long term investments it is important that you make the right start. This means planting good quality trees suitable for your requirements. Fruit tree production is a very specialised area of horticulture. There are very few producers of fruit trees. Most only cater for large orders, supplying trees to commercial growers or retailers. We are one of the few who supply trees direct to the public. We believe that as specialists we can supply the best quality trees and provide the best guidance and advice to our customers.

Nearly all of our trees are produced by ourselves in our own nursery at East Farleigh in the Medway Valley in Kent. We supply bare-root trees which are much better than container grown trees. Our trees are individually lifted to order a short time before being delivered which means that they will reach you fresh. If you intend to use our mail order service you may be concerned about the condition in which your trees will arrive. Your trees will be expertly packed in straw and polythene to prevent damage and drying out. We use a carrier service which in most cases will deliver your trees within 48 hours. We fully guarantee the condition and quality of the trees that you receive. We will replace any tree that is in any way damaged or fails to grow in the first spring after planting. In practice we rarely have to make such replacements.
Ordering from us
You can order trees online on this website. Our online ordering is easy to use and means that the trees are immediately reserved for you and that you are kept informed of the progress of the order by email. Please click for more information on online ordering. The information you see on this website regarding availability of trees is always up-to-date. Online orders can be paid for by credit card using our secure server but for those who prefer not to payment can also be made by cheque or by telephoning in card details.
You can order trees any time during the year. However, the trees would be supplied between mid November and mid March which is the correct time for lifting and planting bare-root trees. The large range we have means that we can only produce a relatively small number of any one type. Inevitably we start to run out of some varieties as the season progresses. The earlier you order the better the chances that we have the trees that you want. You can either collect trees from our nursery or have them delivered. Please note that even if you wish to collect your trees you still need to order first and arrange a time to collect.
Business details
Keepers Nursery is a partnership. The proprietors are: Hamid Habibi, Karim Habibi and Sima Morshed. Our trading and contact address is: Gallants Court, Gallants Lane, East Farleigh, Maidstone, Kent ME15 0LE.
Bud grafting service
In addition to our normal range of trees we are able to propagate any other variety to order. This includes the possibility of propagating from a special tree in your garden as well as unusual varieties from collections such as those at National Fruit Collection at Brogdale or the RHS Gardens at Wisley. Please click here for details of our Bud grafting service.
Press articles about Keepers Nursery
We are regularly recommended as a supplier by journalists writing in the national press as well as gardening magazines. The following are feature articles written about Keepers Nursery in major gardening magazines.
Finding Keepers - Roy Lancaster writes about Keepers Nursery in The Garden September 2003 the journal of the Royal Horticultural Society
A Fruitful Business - Feature article written by Duncan Hayes with photos by Andrea Jones in BBC Gardens Illustrated magazine September 2005
Visiting the nursery
We are producers of trees rather than a retail outlet and as such we are very restricted on receiving visitors. We hold an open day in late September or early October every year when visitors can see our fruit collection and try different varieties. Details are posted on the website home page in September. Other than open days we are normally only open during the winter months for collection of orders. Enquiries are dealt with either by email or telephone. Please click for contact details.
Direction to the nursery
From M20 Junction 5 follow the signs for Maidstone Hospital and Barming. Continue past the hospital, through Barming to East Farleigh. At East Farleigh you will go over a level crossing and a narrow stone bridge across the Medway. Turn right at the cross roads at top of the hill into Lower Road B2010. Continue on Lower Road past Gallants Lane. The entrance to the nursery is on the left about 100 yards after Gallants Lane. Once in the nursery follow the farm track up until you reach a timber barn. Orders can be collected from there. Please see the map below on which the location of the timber barn is shown by the green arrow.


For Sat Nav use postcode ME15 0JS. This will bring you to the junction of Lower Road and Gallants Lane which is about 100 yards from the nursery entrance on Lower Road.