Ellison's Orange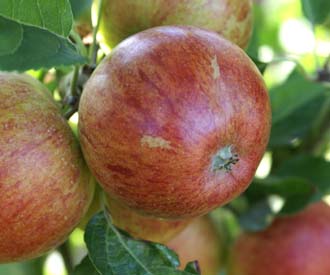 Intensely aromatic Cox like apple with an aniseed flavour. A good alternative to Cox for northern Britain.
Origin: Lincolnshire UK, 1904
Pollination: Ellison's Orange is partially self-fertile and would produce some crop without a pollinator but would benefit considerably from a pollinator.  Pollination partners
Have a look at these similar varieties
History and description of Ellison's Orange
Raised from Cox's Orange Pippin x Calville Blanc in the last years of 19th century by the Rev C C Ellison of Bracebridge, Lincolnshire, UK and his brother-in-law's gardener Mr Wipf. First recorded in 1904. Pennell & Son of Lincoln bought grafts of the tree and introduced the variety in 1911. Received an Award of Merit in 1911 and a First Class Certificate in 1917 from the RHS. Planted commercially in the UK in the 1920-30's. No longer grown commercially but remains a popular garden variety particularly as a substitute for Cox.
Medium, round-conical fruit. Brownish red flush and stripes over a greenish yellow skin. Small russet patches. Creamy white flesh. Crisp and juicy. Intense aromatic flavour similar to Cox. The aniseed flavour to which the literature often refers is not always very noticeable and certainly not unpleasant. At its best Ellison's Orange can surpass Cox in flavour.
Moderately vigorous tree. Resistant to scab and mildew but susceptible to canker. Partially self-fertile, heavy cropper but with some biennial tendency. Very attrctive blossom. Good alternative to Cox for northern Britain but best avoided in humid locations because of suceptibility to canker.
Characteristics of Ellison's Orange apple trees
Use
Dessert
Colour
Flushed
Flavour
Aromatic
Fruit size
Medium
Picking time
Mid/Late Sep
Season of use
Sep-Oct
Tree vigour
Moderate
Tree habit
Upright-spreading
Fruit-bearing
Spur-bearer
Cropping
Good
Disease resistance
Canker - Susceptible
Scab - Very resistant
Mildew - Very resistant

Suitable for
Dry Regions
Hardy
Late Frost
Northern Britain

Special features
Attractive Blossom

Pollination date
13
Pollination group
D
Self-fertility
Partially self-fertile
Pollinators
Pollination partners
Parentage
Cox's Orange Pippin

Progeny
Lynn's Pippin
Merton Beauty
St Ailred