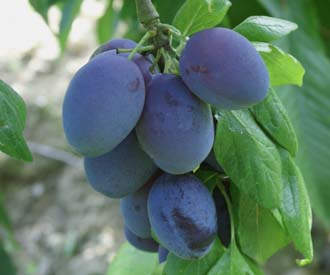 Blaisdon Red Plum
Prunus domestica
---
Blaisdon Red Plum Trees for sale - order online
---
History and description of Blaisdon Red
Blaisdon Red plum is believe to have arisen from seedling rootstock. Discoverd by Mr Dowding of Blaisdon in Gloucestershire, UK and first recorded in 1892. It was once widely grown in Gloucestershire often from suckers on their own roots in traditional grassed orchards for jam making. Such trees are still widespread in parts of Gloucestershire.
Medium-large, long oval to egg-shaped fruit with a neck to the stem. Claret red to purple bloomy skin. Golden yellow flesh with clinging stone. Hard and acid when picked early for jam making. If allowed to fully ripen on the tree in late August until it starts to drop it becomes sweet and tasty and can be eaten as a dessert plum.
Trees are very vigorous, upright, dense, very heavy cropping and very disease resistant. Can be propagated from suckers and was at one time used as rootstock in its native Gloucestershire.
---
Main characteristics of Blaisdon Red
Use
Culinary
Colour
Purple
Flavour
Acid
Fruit size 
Medium
Season of use 
L Aug

---

Tree vigour 
Vigorous
Tree habit 
Upright
Cropping
Heavy
Disease resistance 
Bacterial Canker: Resistant
Silver Leaf: Resistant


---

Pollination date 
22
Pollination group 
D
Self fertility 
Self Fertile
Pollinators
Show suitable pollination partners