Belle de Louvain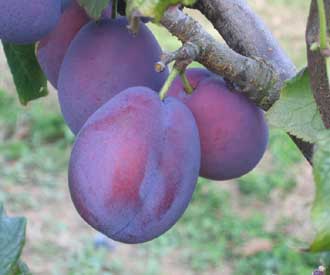 A very large and attractive red-purple cooking plum.
Origin: Belgium, 1845
Pollination: Belle de Louvain is partially self-fertile and would produce some crop without a pollinator but would benefit considerably from a pollinator.  Pollination partners
History and description of Belle de Louvain
Believed to be an old Belgian variety first found in the Van Mons collection in 1845. Has been grown commercially to a small extent in the past in England. Belgium and the Netherlands.
Large, long oval-oblong fruit, flattened on one side. Dark red skin turning purple when fully ripe. Yellow, dryish flesh and semi-clinging stone. Little flavour as a dessert plum but excellent colour and flavour when cooked or made into jam.
br> Very vigorous upright tree with characteristic large, dark green leaves with heavily serrated edges. Reliable and prolific cropper but slow to come into bearing. Hardy with good frost resistance. Good as a windbreak. Will tollerate shade and can be grown on a North facing wall.
---
Characteristics of Belle de Louvain plum and gage trees
Use
Culinary
Colour
Purple
Flavour
Fruit size
Large
Picking time
Season of use
L Aug
Tree vigour
Vigorous
Tree habit
Upright
Fruit-bearing
Cropping
Good
Suitable for
Late Frost
Northern Britain
Shade

Pollination date
24
Pollination group
D
Self-fertility
Partially self-fertile
Pollinators
Pollination partners