Early Laxton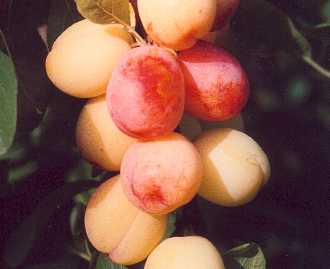 Early Laxton is one of the earliest dual purpose plums
Origin: Bedfordshire UK, 1902
Pollination: Early Laxton is partially self-fertile and would produce some crop without a pollinator but would benefit considerably from a pollinator.  Pollination partners
History and description of Early Laxton
Early Laxton plum was raised by Laxton Bros, Bedford, UK in 1902 from a cross between Catalonia and Rivers Early Prolific. It received an Award of Merit from the RHS and was adopted as a commercial variety in the UK.
Small to medium sized, oval-oblong fruit. Yellow skin with pinkish-red flush, red spots and lavender bloom. Juicy, golden yellow flesh. Free stone. Sweet pleasant taste. High vitamin C content. Fruit tends to bruise easily and skin cracks sometimes. Good as an early dessert plum but also as a cooking plum.
Small tree with a weeping habit. Crops well but the fruit sometimes drops before it is ripe. Frost resistant and therefore suitable for locations subject to spring frosts.
---
Characteristics of Early Laxton plum and gage trees
Use
Dual Cul & Des
Colour
Yellow
Flavour
Sweet
Fruit size
Medium
Picking time
Season of use
L Jul
Tree vigour
Small
Tree habit
Upright-spreading
Fruit-bearing
Cropping
Good
Disease resistance
Bacterial Canker - Susceptible

Suitable for
Late Frost
Northern Britain

Pollination date
21
Pollination group
C
Self-fertility
Partially self-fertile
Pollinators
Pollination partners