Warwickshire Drooper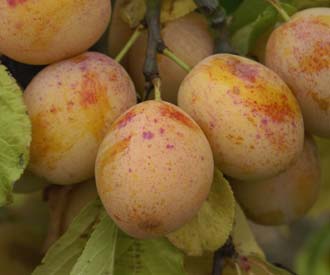 A heavy cropping late yellow plum. Attractive tree with weeping habit.
Origin: Warwickshire UK,
Pollination: Warwickshire Drooper is self-fertile and a pollinator is not necessary for producing a crop.  Pollination partners
History and description of Warwickshire Drooper
The Dundale plum from Kent, UK is believed to be the original Warwickshire Drooper. However it was in the Midlands where it was first grown on a commercial scale and was known as Magnum. This name has now been replaced by Warwickshire Drooper. Traditionally it was grown on its roots and propagated from suckers. It was also used as a rootstock in the Midlands.
Medium sized, oval-oblong fruit. Yellow skin speckled with red spots, brownish russet patches and covered with a thin grey bloom. Tender, yellow flesh. Thick skinned. Quite sweet. Fruit hangs well on the tree.
Very vigorous tree with a conspicuous weeping habit. Very heavy regular cropper. Attractive tree particularly in the early autumn when it has long hanging branches full of yellow plums.
---
Characteristics of Warwickshire Drooper plum and gage trees
Use
Dual Cul & Des
Colour
Yellow
Flavour
Sweet
Fruit size
Medium
Picking time
Season of use
Sep
Tree vigour
Vigorous
Tree habit
Upright-spreading
Fruit-bearing
Cropping
Heavy
Suitable for
Northern Britain
Shade

Pollination date
18
Pollination group
C
Self-fertility
Self-fertile
Pollinators
Pollination partners