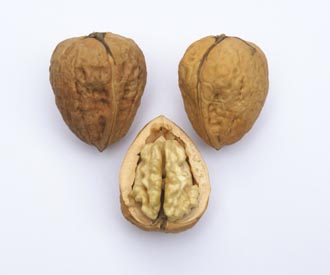 Broadview Walnut
Juglans regia
One of the most popular walnut varieties for gardens because of the relatively small size of the tree
Origin:
 Canada
Pollination:
  Broadview is self-fertile and a pollinator is not necessary for producing a crop.
A guide to choosing Walnut Trees
---
Broadview Walnut Trees for sale - order online
---
History and description of Broadview
Broadview walnut originates from British Columbia in Canada. It is one of the best all-round walnut varieties for UK conditions. It is a slow growing, compact, spreading tree typically growing to a height and spread of 20ft (6.5m). Broadview is very precocious producing large quality nuts from a very early age of about three years. It is fairly self fertile and has quite frost hardy.