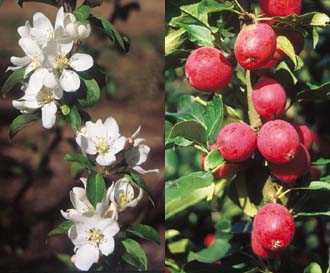 Dolgo Crab Apple
Malus baccata
An early ripening bright crimson crab apple with red flesh which makes excellent a red jelly.
Pollination:
  Dolgo is self-fertile and a pollinator is not necessary for producing a crop.
A guide to choosing Crab Apple Trees
---
Dolgo Crab Apple Trees for sale - order online
---
History and description of Dolgo
Malus Dolgo also known as Pink Glow is an excellent jelly making crab apple. It has beautiful white blossom in spring. The bright crimson fruit is quite large and ripens in early September. It makes an excellent red jelly. Dolgo is disease resistant and a good alterntive to John Downie.