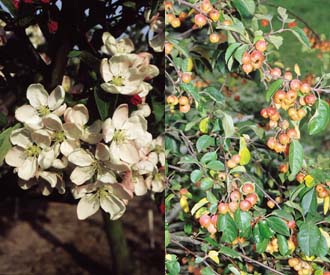 Evereste Crab Apple
Malus
A very popular crab apple with attractive white blossom and orange coloured fruit.
Pollination:
  Evereste is self-fertile and a pollinator is not necessary for producing a crop.
A guide to choosing Crab Apple Trees
---
Evereste Crab Apple Trees for sale - order online
---
History and description of Evereste
Malus Evereste produces a conical tree with dark green leaves. It has large pale pink blossom in April/May and small red and yellow crab apples which last into the winter. It is an excellent pollinator widely used in commercial apple orchards.