Cornish Gilliflower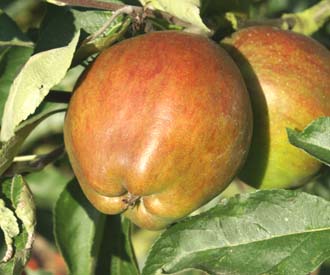 An old English apple with an unusual shape and sweet perfumed flavour orginating from Cornwall.
Origin: Cornwall UK, 1800
Pollination: Cornish Gilliflower is self-sterile and would require a pollinator to produce a crop.  Pollination partners
History and description of Cornish Gilliflower
A very old variety, brought to notice by Sir Christopher Hawkins in 1813 having been discovered in a garden in Truro, Cornwall in about 1800. The word Gilliflower is believed to have been derived from the old French word Girofle meaning clove and given to this variety because it is supposed to have a clove-like frangrance when cut.
Medium to large sized, rather unusual irregular oblong or oblong-conical shaped fruit. The knobbly exterior is quite boldly ribbed and distinctly five crowned. The skin is rather rough, often with some russetting, greenish yellow with up to half flushed orange-red. Very firm yellow flesh, tinged green around the core. Rather dry but sweet with a melon like frangrance.
Moderately vigorous, very spreading tree. It is a tip-bearer and unsuited for training into restricted forms such as cordons and espaliers. A light cropper.
Characteristics of Cornish Gilliflower apple trees
Use
Dessert
Colour
Flushed
Flavour
Aromatic
Fruit size
Medium
Picking time
Mid Oct
Season of use
Nov-Jan
Tree vigour
Moderate
Tree habit
Upright-spreading
Fruit-bearing
Tip-bearer
Cropping
Light
Disease resistance
Canker - Susceptible
Scab - Resistant

Special features
Attractive Blossom

Pollination date
12
Pollination group
D
Self-fertility
Self-sterile
Pollinators
Pollination partners
Progeny
Cornish Pine