Decio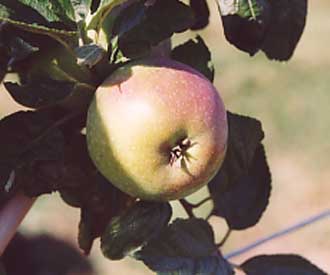 An ancient apple believed to date from the time of Attila the Hun.
Origin: Italy, 450
Pollination: Decio is self-sterile and would require a pollinator to produce a crop.  Pollination partners
History and description of Decio
A very old late dessert apple believed to date from Roman times. Mentioned by the 16th century historian Francesco Bocchi as existing around AD 450 when General Ezio took some of these apples (referred to as 'melo d'Ezio') from Rome to Adria, near Padua where he fought Attila. They were served at banquets given by the Duke of Ferrara in 1529 when they were known as 'Deci' apples. Included in a list of 'worthy varieties' in 1823 by a horticulturalist living in Venice.The apple was well known as 'Decio' around Venice in 1939.
Small sized fruit flushed brownish pink over green, ripening to red and cream. Flesh quite sweet and fruity. An upright tree of weak vigour.
Characteristics of Decio apple trees
| | |
| --- | --- |
| Use | Dessert |
| Colour | Flushed |
| Flavour | Fruity |
| Fruit size | Small |
| Picking time | Late Oct |
| Season of use | Dec-Mar |
| Tree vigour | Small |
| Tree habit | Upright |
| Fruit-bearing | Spur-bearer |
| Cropping | |
| Pollination date | 16 |
| Pollination group | E |
| Self-fertility | Self-sterile |
| Pollinators | Pollination partners |