Merryweather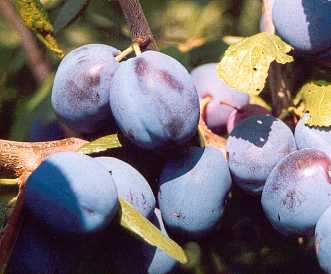 A very popular large damson regarded by some as a small plum with damson flavour.
Origin: Nottinghamshire UK, 1907
Pollination: Merryweather is self-fertile and a pollinator is not necessary for producing a crop.  Pollination partners
History and description of Merryweather
Merryweather damson was raised at and named after Merryweather's Nursery, Southwell Nottinghamshire, UK and introduced in 1907. Received the RHS Award of Merit in 1907 and a First Class Certificate in 1913. Parentage is not known. The fruit size and tree habit have led to suspicions that it may not be a true damson.
A very large fruit for a damson. The size of a small plum. Blue-black skin with a heavy bloom of lighter blue. Firm, greenish yellow flesh. Clinging stone. Good damson flavour. Good for freezing and using during the winter.
Moderately vigrous spreading tree resembling a plum tree rather than a damson tree in many respects. Regular, good cropper.
Characteristics of Merryweather damson, cherry plum and bullace trees
Use
Culinary
Colour
Blue Black
Flavour
Sharp
Fruit size
Large
Picking time
Season of use
E Sep
Tree vigour
Moderate
Tree habit
Spreading
Fruit-bearing
Cropping
Good
Suitable for
Northern Britain
Wet Regions

Pollination date
19
Pollination group
C
Self-fertility
Self-fertile
Pollinators
Pollination partners