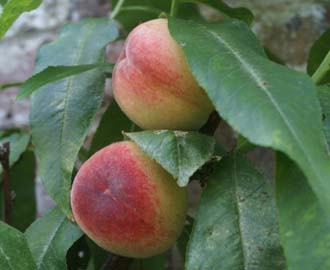 Amsden June Peach
Prunus persica
One of the earliest ripening outdoor peaches with some leaf curl resistance.
Origin:
 USA 1865
Pollination:
  Amsden June is self-fertile and a pollinator is not necessary for producing a crop.
A guide to choosing Peach Trees
---
Amsden June Peach Trees for sale - order online
---
History and description of Amsden June
Amsden June is an old American peach variety. It is one of the earliest ripening peaches - ripening late June under glass or early July outdoors. It has white skin with a bright red flush where it is exposed to the sun. The flesh is white, very tender and juicy with a fine flavour. Easily separates from its stone making it useful for fruit salads and cooking. It has some resistance to peach leaf curl. Early ripening and some degree of leaf curl resistance make Amsden June a good outdoor peach for UK conditions.
---
Main characteristics of Amsden June
Use
Dessert
Colour
White Fleshed
Fruit size 
Medium
Season of use 
Early July

---

Tree vigour 
Moderate

---

Self fertility 
Self Fertile