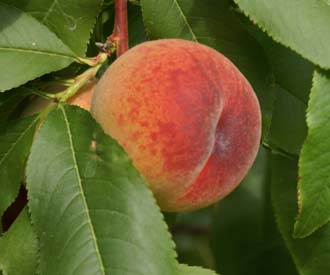 Avalon Pride Peach
Prunus persica
A new leaf curl resistant peach producing excellent early ripening yellow fleshed fruit.
Origin:
 USA
Pollination:
  Avalon Pride is self-fertile and a pollinator is not necessary for producing a crop.
A guide to choosing Peach Trees
---
Avalon Pride Peach Trees for sale - order online
---
History and description of Avalon Pride
Avalon Pride peach was discovered as a chance seedling by a very observant amateur gardener Miss Pride in woods near Seattle in Washington State USA. She noticed that the tree not only produced good quality fruit but also showed no sign of leaf curl. It is said that the original tree was dug up and destroyed by a wild bear but Miss Pride managed to salvage some scion wood to save and propagate the variety.
Avalon Pride has attractive pink blossom. The fruit is quite large with a deep orange-yellow background skin colour and an attractive crimson red flush. The flesh is deep yellow, fairly firm, juicy and sweet with a good flavour. It ripens earlier than most other peach varieties.
The tree has a dense bushy growth habit. It shows a very high degree of resistance to peach leaf curl. Cropping is good but not as heavy as some other varieties. There is some tendency to produce twin fruit with a small fruit attached to a full sized fruit. Its resistance to leaf curl and relatively early ripening make Avalon Pride an excellent variety for outdoor growing in the UK.
---
Main characteristics of Avalon Pride
Use
Dessert
Colour
Yellow fleshed
Fruit size 
Medium
Season of use 
Early August

---

Tree vigour 
Moderate
Cropping
Good

---

Self fertility 
Self Fertile