Packham's Triumph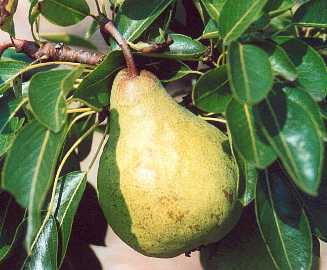 A heavy cropping dessert pear but requiring a warm sheltered location.
Origin: Australia, 1896
Pollination: Packham's Triumph is self-sterile and would require a pollinator to produce a crop.  Pollination partners
History and description of Packham's Triumph
Packham's Triumph was raised c 1896 by Charles Packham in New South Wales, Australia from a cross between Uvedale St Germain and Williams Bon Chretien. Has become a successful commercial variety since the 1940's, grown extensively in Australia, South Africa and elsewhere.
Medium sized, pyriform fruit. Smooth, green skin ripening to pale yellow. Pale yellow, smooth, juicy flesh. Good musky flavour when properly ripened. Best left on the tree for as long as possible for the flavour to develop.
Relatively weak growing, upright tree. Heavy cropper sometimes requiring to be thinned. Has a tendency to drop the crop. Best grown in a warm sheltered location
Characteristics of Packham's Triumph pear trees