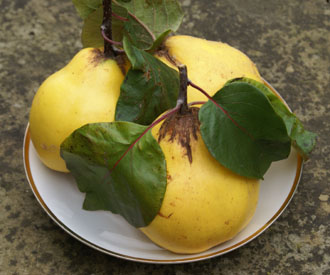 Isfahan Quince
Cydonia oblonga
A very high quality sweet quince named after the ancient city of Isfahan in Iran whence it originates.
Origin:
 Iran
Pollination:
  Isfahan is self-fertile and a pollinator is not necessary for producing a crop.
A guide to choosing Quince Trees
---
Isfahan Quince Trees for sale - order online
---
History and description of Isfahan
Isfahan quince comes from the ancient city of Isfahan in Iran famous for its quinces. It is a high quality quince suitable for a wide range of culinary uses.
The fruit is quite large, pear shaped, lemon yellow when ripe with a distinctive quince aroma. Unlike most quince varieties commonly grown in the UK which have very astringent and gritty flesh, Isfahan is quite sweet and apart from the core has fine textured flesh. While it would not normally be eaten fresh it is quite palatable uncooked. When cooked it keeps its shape and will turn pink or even a deep red in colour. It is not very suitable for jelly making as the flesh does not break up, but it is excellent for making preserves or pies. It is also excellent for using in various meat and vegetable casserole dishes to which it gives its distinctive aroma and flavour.
The tree is quite vigorous and fairly upright. It is a reliable and good cropper. It is slightly susceptible to canker and therefore less suitable for wetter regions of the country.
---
Main characteristics of Isfahan
Use
Culinary
Fruit size 
Large
Picking time 
Oct
Season of use 
Oct-Nov

---

Tree vigour 
Moderate
Tree habit 
Spreading

---

Self fertility 
Self Fertile