Dumelow's Seedling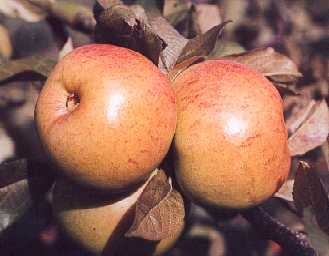 A popular Victorian cooking apple and a good frost resistant substitute for Bramley.
Origin: Leicestershire UK, 1800
Pollination: Dumelow's Seedling is self-sterile and would require a pollinator to produce a crop.  Pollination partners
History and description of Dumelow's Seedling
Raised by Richard Dumeller (pronounced Dumelow), a farmer at Shakestone, Leicestershire in the late 1700's probably from a Northern Greening Seedling. It was originally known locally as Dumelow's Crab. It was introduced by Richard Williams of Turnham Green Nursery in 1819 or 1820 as Wellington Apple, after he received the variety from Earl Howe's estate at Gospall Hall. It was a widely grown and popular culinary variety in England until it was superceded by Bramley's Seedling in the early 1900's.
Large, regular, flat-round shaped fruit. Pale greenish yellow. Delicate pinkish orange blush and stripes. Firm, juicy, acid, white flesh. Cooks to a strong flavoured, pale cream puree. Keeps very well retaining much of its acidity and flavour until spring. A very good culinary apple.
A vigorous, spreading tree. Good cropper but with some bienniel tendency. Attractive blossom. Good frost resistance making this variety a good substitute for Bramley's Seedling in areas subject to late frosts.
Characteristics of Dumelow's Seedling apple trees