Stirling Castle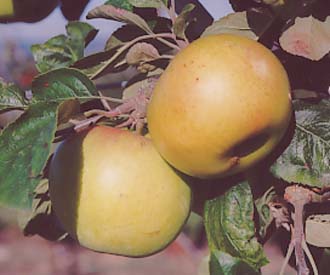 An old cooking apple originally from Scotland and once widely grown throughout the UK.
Origin: Scotland, 1820
Pollination: Stirling Castle is partially self-fertile and would produce some crop without a pollinator but would benefit considerably from a pollinator.  Pollination partners
History and description of Stirling Castle
Stirling Castle apple was raised in the 1820's by John Christie, a nurseryman who also kept a toy shop at Causey Head, near Stirling, Scotland. Introduced by Drummonds Nursery, Stirling. First recorded in 1831. Widely grown in the 19th century. Fell out of favour with commercial growers in the 1920-30's when it was found to be damaged by lime sulphur sprays which were widely used at the time. Still a popular garden variety in the North and Scotland.
A large cooking apple. Round to flat-round shape and regular. Bright green colour becoming very pale clear yellow with a slight orange flush. White flesh, very soft and juicy and acid. Cooks to a sharp white puree with plenty of fruity flavour.
A tree of weak vigour with attractive blossom. Heavy cropper.
Characteristics of Stirling Castle apple trees
Use
Culinary
Colour
Green
Flavour
Fruity
Fruit size
Large
Picking time
Mid Sep
Season of use
Sep-Dec
Tree vigour
Small
Tree habit
Upright-spreading
Fruit-bearing
Spur-bearer
Cropping
Heavy
Disease resistance
Mildew - Slightly susceptible
Scab - Very resistant

Suitable for
Northern Britain
Wet Regions

Special features
Attractive Blossom

Pollination date
11
Pollination group
C
Self-fertility
Partially self-fertile
Pollinators
Pollination partners