Gravenstein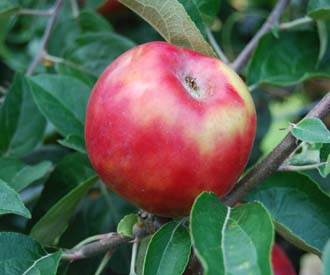 An old dual purpose apple with a distinctive savoury flavour popular in Scandanavia and Northern Europe.
Origin: Europe, 1600
Pollination: Gravenstein is a self-sterile triploid and would require a pollinator to produce a crop.  Pollination partners
Have a look at these similar varieties
History and description of Gravenstein
An old European variety which according to some sources arose in the 1600's in the garden of Duke Augustenberg, Castle Graefenstein, Schleswig-Holstein. Other sources trace its origins to an apple called Ville Blanc imported to Northern Europe from Italy or South Tyrol. Introduced in England in the 1820's and sent from London Horticultural Society to Massachusetts and Nova Scotia. Introduced to California by Russian settlers by the 1820's. Still grown in Canada and California and continues to be valued in Northern Europe, where it is Norway's most popular apple.
A medium/large sized apple. Oblong shape. Irregular, flat-sided, with small well-rounded ribs. Greenish yellow background colour becoming yellow. Light orange red flush with short, broad, broken scarlet stripes. Cream coloured flesh, somewhat coarse-textured, juicy. Crisp, distinctive savoury flavour. A dual purpose apple which keeps its shape when cooked.
A very hardy, vigorous tree. Good cropper. Slow to bear. Fruit drops.
Characteristics of Gravenstein apple trees
Use
Dual Cul & Des
Colour
Flushed
Flavour
Savoury
Fruit size
Large
Picking time
Early Sep
Season of use
Sep-Oct
Tree vigour
Vigorous
Tree habit
Upright-spreading
Fruit-bearing
Spur-bearer
Cropping
Good
Disease resistance
Scab - Susceptible
Mildew - Susceptible
Canker - Susceptible

Suitable for
Hardy

Special features
Attractive Blossom
Good for Cider
Good for Juice

Pollination date
3
Pollination group
A
Self-fertility
Self-sterile triploid
Pollinators
Pollination partners
Progeny
James Lawson