Barnack Orange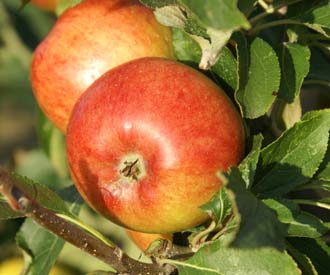 A late season aromatic Cox like dessert apple.
Origin: Leicestershire UK, 1904
Pollination: Barnack Orange is self-sterile and would require a pollinator to produce a crop.  Pollination partners
Have a look at these similar varieties
History and description of Barnack Orange
Raised from Barnack Beauty x Cox's Orange Pippin by W H Divers, Head Gardener at Belvoir Castle, Leicestershire, UK in 1904. Medium sized, round fruit. Red flush and stripes on a yellow skin. Juicy, firm, yellow flesh. Intense, rich, aromatic flavour. Prefers chalky soils.
Characteristics of Barnack Orange apple trees