Colonel Vaughan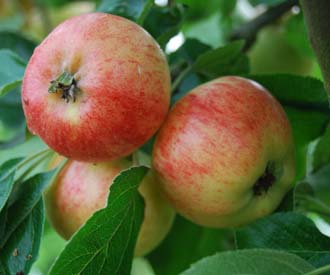 An old Kent variety once used for cider making also known as Kentish Pippin.
Origin: Kent UK, 1600
Pollination: Colonel Vaughan is self-sterile and would require a pollinator to produce a crop.  Pollination partners
History and description of Colonel Vaughan
Colonel Vaughan apple arose in Kent, UK possibly in the 17th century. Also known as Kentish Pippin it was grown commercially in Kent until the 19th century. Small, conical fruit. Pink flush over a cream coloured skin. Crisp, juicy flesh. Pleasant fruity flavour. Used for cider. Moderately vigorous tree. Heavy cropper which may need thinning to produce good sized fruit. Attractive blossom.
Characteristics of Colonel Vaughan apple trees
Use
Dessert
Colour
Flushed
Flavour
Sweet
Fruit size
Small
Picking time
Early Oct
Season of use
Oct-Dec
Tree vigour
Moderate
Tree habit
Upright-spreading
Fruit-bearing
Spur-bearer
Cropping
Heavy
Special features
Attractive Blossom
Good for Cider

Pollination date
11
Pollination group
C
Self-fertility
Self-sterile
Pollinators
Pollination partners