Crispin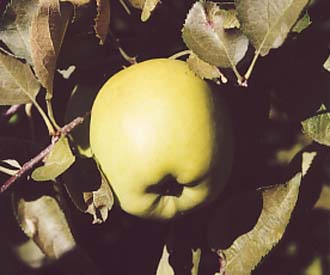 A large sweet, yellow dual purpose apple originating from Japan where it is called Mutsu.
Origin: Japan, 1930
Pollination: Crispin is a self-sterile triploid and would require a pollinator to produce a crop.  Pollination partners
History and description of Crispin
Raised in Japan in 1930 at the Aomori Apple Experimental Station from Golden Delicious X Indo. First fruited 1939 and was named Mutsu in 1948. On trial at the National Fruit Trials, UK 1954-1964 and for commercial reasons renamed Crispin in the UK in 1968. A large dual purpose apple. Widely grown in Japan. Also grown in the USA where it is used commercially for apple pies. Grown on a small scale in the UK.
Large sized fruit, oblong, tapering towards the apex, ribbed, flat-sided and five crowned. Smooth, greenish yellow skin turning yellow when fully ripe. Occasional slight brownish flush. Pale creamy white flesh, firm, crisp, juicy, sweet, sometimes honeyed flavour. Keeps very well in storage. Tends to keep its shape when cooked.
A very vigorous spreading tree. Produces spurs freely. A heavy cropper. Prone to canker. A triploid variety and therefore usuitable as a pollinator of others.
Characteristics of Crispin apple trees
Use
Dual Cul & Des
Colour
Yellow
Flavour
Sweet
Fruit size
Large
Picking time
Mid Oct
Season of use
Dec-Mar
Tree vigour
Vigorous
Tree habit
Spreading
Fruit-bearing
Spur-bearer
Cropping
Heavy
Disease resistance
Scab - Very susceptible
Canker - Susceptible
Mildew - Resistant

Suitable for
Northern Britain

Special features
Good for Cider
Good for Juice
Cooked Keeps Shape

Pollination date
10
Pollination group
C
Self-fertility
Self-sterile triploid
Pollinators
Pollination partners
Parentage
Golden Delicious