Golden Delicious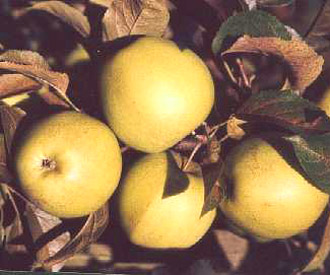 The most widely grown apple throughout the world. Requires a warm location to achieve full sweetness.
Origin: USA, 1890
Pollination: Golden Delicious is self-sterile and would require a pollinator to produce a crop.  Pollination partners
Have a look at these similar varieties
History and description of Golden Delicious
Golden Delicious arose from a chance seedling, possibly of Grimes Golden, found by A H Mullins, Clay County, West Virginia, USA c1890. He named it Yellow Seedling. In 1914 Mullins sent samples of the fruit to Stark Bros Nursery. They were so impressed that they bought the tree for $5000 and built a cage around it to prevent anyone stealing graftwood. Stark Bros renamed and introduced the variety as Golden Delicious in 1916. It was awarded the Wilder Medal in 1921. It was extensively planted in the USA from the 1920's onward and from the 1960's onward in France and elsewhere in Europe. It is now one of the most widely grown apples throughout the world. It has only been grown on a small scale in the UK since its introduction by E Bunyard in 1926 as it is considered to require a warmer and sunnier climate.
Medium sized, round-conical to oblong fruit. Greenish yellow skin ripening to golden yellow. Occasional russet patches. Cream coloured flesh. Crisp and juicy, with a very sweet refreshing taste when first picked. Excellent keeping qualities but tending to lose both texture and flavour in storage. Keeps its shape when cooked and is the most commonly used apple for pastries in France.
Moderately vigorous, spreading tree. Good cropper. Disease resistant. Attractive white blossom. Good pollinator. Requires a good summer to ripen well.
Characteristics of Golden Delicious apple trees