Jonathan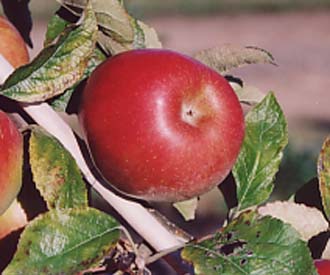 An old American dessert apple. Red flushed, crisp, juicy and sweet but with plenty of refreshing acidity.
Origin: USA, 1826
Pollination: Jonathan is partially self-fertile and would produce some crop without a pollinator but would benefit considerably from a pollinator.  Pollination partners
History and description of Jonathan
Jonathan apple arose on the farm of Philip Rick, Woodstock, Ulster County, New York, USA. Believed to be an
Esopus Spitzenburg
seedling. Described 1826. Judge Buel, President of Albany Horticultural Society, named it after Jonathan Hasbrouck, the man who first drew his attention to the tree. Exhibited in England in 1864 at the RHS by the famous nurseryman Thomas Rivers. Widely grown in the USA and the warmer apple-producing regions of the world.
A medium sized apple. Oblong to round-conical shape, ribbed and slightly five-crowned. Half to three-quarters flushed bright crimson with scattered broken red stripes on pale yellow. White flesh, slightly green tinged. Crisp, juicy and sweet with plenty of refreshing acidity. A dual purpose apple, good for pies and sauces. A weeping tree of moderate vigour. Good cropper. Prone to mildew.
Characteristics of Jonathan apple trees