Laxton's Superb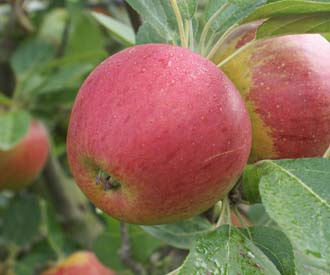 A sweet dessert partially self-fertile apple with the aromatic flavour of Cox.
Origin: Bedfordshire UK, 1897
Pollination: Laxton's Superb is partially self-fertile and would produce some crop without a pollinator but would benefit considerably from a pollinator.  Pollination partners
Have a look at these similar varieties
History and description of Laxton's Superb
Raised from Wyken Pippin x Cox's Orange Pippin by Laxton Bros, Bedford, UK 1897. Received the RHS Award of Merit 1919 and First Class Certificate 1921. Introduced in 1922. Became established as a commercial variety in the UK, but declined after it was found that trees developed a biennial tendency as they aged. Still grown commercially on a small scale. A popular garden variety.
Medium sized, round-conical fruit. Purplish red flush and stripes over a greenish yellow skin. Some russet patches. White, crisp, juicy flesh. Sweet but with variable flavour. In a good year it has much of the aromatic qualities of Cox but in poor years it may lack in flavour. Keeps quite well.
Vigorous, speading tree producing rather straggling branches and whippy new growth. Young trees produce regular heavy crops but older trees tend to be biennial. Prone to scab but resistant to mildew and canker.
Characteristics of Laxton's Superb apple trees
Use
Dessert
Colour
Flushed
Flavour
Sweet
Fruit size
Medium
Picking time
Early/Mid Oct
Season of use
Nov-Jan
Tree vigour
Vigorous
Tree habit
Spreading
Fruit-bearing
Spur-bearer
Cropping
Heavy
Disease resistance
Scab - Susceptible
Mildew - Resistant
Canker - Resistant

Suitable for
Late Frost
Northern Britain

Pollination date
13
Pollination group
D
Self-fertility
Partially self-fertile
Pollinators
Pollination partners
Parentage
Cox's Orange Pippin
Wyken Pippin

Progeny
Tydeman's Late Orange

Sports
Maxton