Charles Ross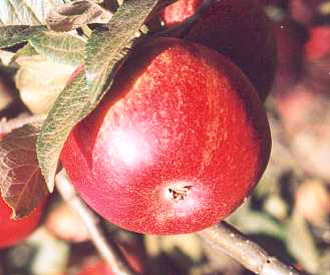 A very handsome traditional English dual purpose apple.
Origin: Berkshire UK, 1890
Pollination: Charles Ross is partially self-fertile and would produce some crop without a pollinator but would benefit considerably from a pollinator.  Pollination partners
History and description of Charles Ross
Raised from Peasgood Nonsuch x Cox's Orange Pippin by Charles Ross, gardener to Capt Carstairs of Welford Park, Berkshire. It was originally named Thomas Andrew Knight after the famous pomologist. It received an Award of Merit from the RHS in 1899. It was renamed in the same year and received a First Class Certificate from the RHS as Charles Ross. Formerly grown on a small scale in the UK. A very handsome, prized exhibition variety.
Large, round-conical fruit. Greenish yellow skin covered with orange red flush and distinct broken red lines. Some russet patches. Creamy white, crisp, juicy flesh. Pleasant, sweet, lightly aromatic flavour. Loses flavour in storage. Dual purpose. Keeps some of its shape when cooked.
Moderately vigorous, upright, hardy tree. Partially self-fertile, good cropper. Resistant to scab but susceptible to capsid bug. Suitable for growing in northern Britain, on chalky soils and in coastal regions.
Characteristics of Charles Ross apple trees