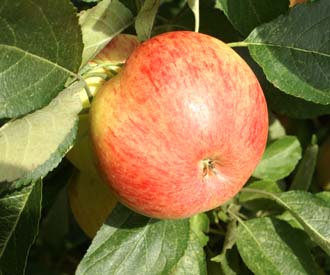 James Grieve Apple
Malus domestica
---
James Grieve Apple Trees for sale - order online
We supply trees and plants only during the winter planting season from late November to mid March. Orders placed now will not be be delivered until the winter planting season. You will not be required to pay until October but by ordering now you can ensure that the items are reserved for you and supplied as early as possible when we resume delveries in late November.
---
History and description of James Grieve
Raised by James Grieve in Edinburgh, Scotland either from a Pott's Seedling or Cox's Orange Pippin seedling. Introduced by Dickson's Nursery. First recorded 1893. Received RHS Award of Merit 1897 and a First Class Certificate 1906. Formerly grown commercially in the UK and Northern Europe.

Medium to large, round-conical fruit. Bright red flush over green skin ripening to yellow. Attractive looking. Creamy white, soft, juicy flesh. Quite sharp early in the season when it makes a good stewing apple. Acidity mellows in September and October but it still remains a fairly sharp tasting dessert apple. Bruises very easily. Limited storage life going soft quite quickly. Excellent variety for juice making.

Moderately vigorous, spreading tree. Heavy cropper. Good pollinator. Susceptible to canker and therefore not suitable for growing in humid locations. Otherwise a good garden variety.
---
Main characteristics of James Grieve