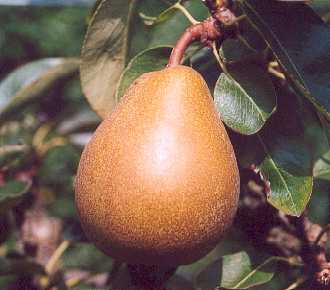 Merton Pride Pear
Pyrus communis
---
Merton Pride Pear Trees for sale - order online
---
History and description of Merton Pride
Raised in 1941 by M B Crane at the John Innes Horticultural Institute, Merton, London, UK from a cross between Glou Morceau and Double Williams (a mutation of Williams Bon Chretien). It was first named Merton Favourite in 1953 and then renamed Merton Pride in 1957.
Large, conical to pyriform fruit. Rough, green skin ripening to yellow. Variable amounts of brown russet. Creamy white, soft, smooth, very juicy flesh. Excellent flavour.
A fairly vigorous, upright tree. Moderate cropper with some biennial tendency. Triploid and therefore ineffective as a pollinator.
---
Main characteristics of Merton Pride