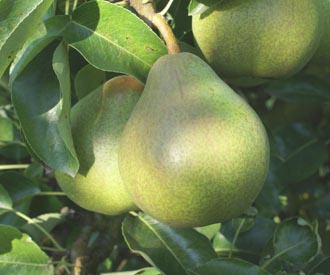 Doyenne du Comice Pear
Pyrus communis
---
Doyenne du Comice Pear Trees for sale - order online
---
History and description of Doyenne du Comice
Doyenne du Comice was raised at the Comice Horticole, Anger, France. First fruited in 1849. Was introduced to Britain by Sir Francis Dyke Acland in 1858. Grown commercially in most pear growing areas throughout the world and on a small scale in the UK. Considered as one of the finest dessert pears.
Large, bergamotte shaped fruit. Pale green skin turning pale yellow. Variable amount of fine russetting ranging from full cover to almost clean. Occasional faint red flush or stripes. Pale yellow, juicy, smooth flesh. Very sweet, delicious flavour.
Vigorous, upright spreading tree. Best grown in a warm location for regular good cropping. Not a good pollination partner for Onward.
---
Main characteristics of Doyenne du Comice